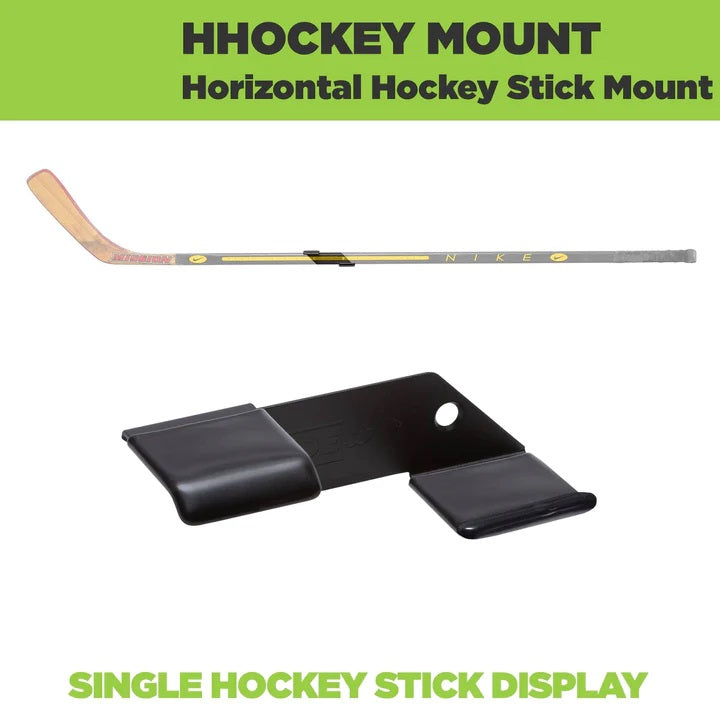 Universal Horizontal Hockey Stick Display Wall Mount for Collectible, Autographed & Custom Sticks
Sale price
$35.00
Regular price
Got Stick? Then don't let it be a duster! Time to proudly DISPLAY it with the Horizontal Hockey Stick Wall Mount. Easily mount your collectible, autographed or memorabilia hockey stick for a sleek setup any fan would be proud of! Our strong but discrete, single-piece storage solution makes your stick the focus, not the mount! Plus, we've included protective rubber caps ensuring your hockey stick stays securely mounted, won't slip, and is safe from potential scratches. The Hockey Mount works with bandy, field, goalie, ice, roller and street hockey sticks. So, go ahead and show your pride with the Horizontal Hockey Stick Display Mount!
Product Detail:
Universal design fits most hockey stick types.
•  Anti-slip rubber caps protect stick from scratches.
•  Single-piece mount for quick + easy installation.
•  Powder-coat finish resists rust for indoor or outdoor mounting.
•  Made in the USA from 16-gauge, cold-rolled steel for durability.
•  Includes drywall screws and anchors rated for 25 lbs each. Stud mounting optional.
•  Consider balance point of shaft. Mount works on the counter-balance of weight.

Hockey sticks sold separately.

Product Name: HHockey
UPC: Single 850017013377; 3-Pack 850045107031; 5-Pack 850045107048
Includes: (2) #8 Flat Head Drywall Screws, (2) Drywall Anchors rated for 25 lbs each, (2) Rubber Caps
Dimensions: H 1.75 x L 5.00 x D 1.47 in (44.5 x 127.0 x 37.3 mm)
Released: 12/2020 | Patent Pending

COMPATIBLE WITH:
•  Bauer Hockey Sticks
•  CCM Hockey Sticks
•  Easton Hockey Sticks
•  Nike Hockey Sticks
•  Sher-Wood Hockey Sticks
•  Warrior Hockey Sticks
Product FAQ:
 How does this mount work?
This mount uses the natural balance of the hockey stick to maintain a level position.

★ Will my hockey stick be perfectly centered in the mount?
Not necessarily. The natural balance point of the stick may be closer to the blade depending on the stick's design.

★ Does this work with goalie sticks?
Yes, the blade will face to the right.
Does this work with field hockey sticks?
Absolutely! You can mount them facing to the left or right.

★ Can the hockey stick be mounted facing either direction?
Yes, unless you are mounting a goalie stick (then the blade must face to the right).