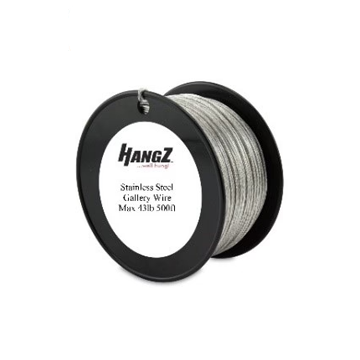 HangZ Gallery Wire Stainless Steel Plastic coated 25lb, 43lb, 60lb, 100lbs
Sale price
$35.00
Regular price
HangZ Gallery Wire holds weights of 25lb, 43lb, 60lb 100lb is a high-quality hanging solution designed specifically for pictures. It is constructed using plastic-coated, finger-friendly, high-strength corrosion-resistant 304 stainless steel. This stainless steel wire offers excellent durability and resistance to rust or corrosion.
The HangZ Gallery Wire is soft, flexible, and resistant to fraying, making it easy to handle and twist as needed during installation. It is specifically designed to provide reliable support for hanging pictures, ensuring that your artwork stays securely in place.
In addition to its application for picture hanging, the HangZ Gallery Wire is also versatile and can be utilized for various jobs around the house, workshop, and other settings. Its strength and durability make it suitable for a wide range of uses.
With HangZ Gallery Wire, you can confidently hang your pictures or use it for other applications, knowing that it offers the ideal combination of strength, flexibility, and corrosion resistance.