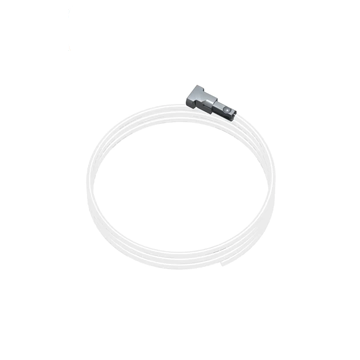 HangZ Perlon Cable for Gallery Rail System with 44 lbs. Capacity 5010150, 5010200
Sale price
$4.99
Regular price
HangZ Perlon Cable for Gallery Rail System with 44 lbs. Capacity. The Twister Perlon is made of transparent wire. The Twister suspension cords are user-friendly and easy; click and turn the Twister and it hangs safely and securely.

The Twist-to-Lock head hides completely inside the track, lending a very clean finished look. This is why this cable is loved by architects and interior designers.
The standard 2mm thickness means it can be used with most picture hanging hooks on the market (sold separately). All are compatible with this cord: CAM hook, Micro hook, Rapid Hook, Torq hook CAM security hook, as well as most picture hanging hooks for cords or cables of all other brands.
To use, insert the metal Twist-to-Lock head into the track, twist right and pull down to lock in. To unlock the cable, simply lift the cable up and twist left, then remove. All 3 steps are done in one smooth motion: Insert-twist-pull.
Available: in 4.9ft & 6.5ft