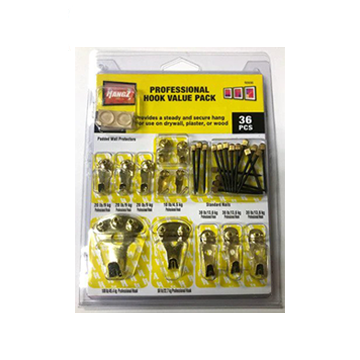 HangZ Professional Picture Hook Value Pack 1.8 nails 50935
Sale price
$8.99
Regular price
The Professional Picture Hook Value Pack is a comprehensive solution for hanging pictures, artworks, and other decorative items. These hooks feature 1.8 diameter case-hardened blue steel nails, specifically designed to minimize wall damage during installation and removal.
These hangers are widely used in museums and art galleries, indicating their reliability and suitability for professional display settings. The high-quality construction and durability of the hooks ensure secure hanging of your valuable pieces while minimizing the impact on the walls.
With the Professional Picture Hook Value Pack, you can confidently hang your artwork, knowing that the hooks are designed to provide stability and reduce the risk of wall damage. This pack offers a convenient and trusted solution for displaying your cherished items with professional-grade quality.