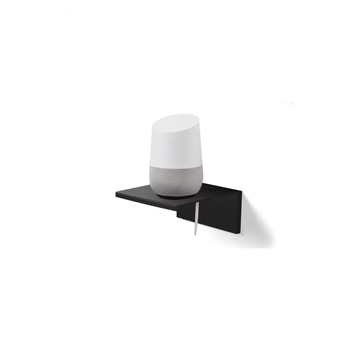 Sale price
$21.99
Regular price
The No Stud Smart Shelf is a versatile solution for mounting smart devices such as Roku Ultra, Apple TV, Ring cameras, Google Home, and more anywhere in your home. This innovative mounting system eliminates the need to locate wall studs, providing you with the flexibility to place your smart device in the most convenient and desired location.
The No Stud Smart Shelf utilizes tiny nails that securely insert into an aircraft-grade aluminum interlocking bracket. This robust mounting mechanism ensures a reliable and stable attachment of your smart device to the wall, keeping it securely in place.
One of the added benefits of the No Stud Smart Shelf is its ability to be installed over an outlet, allowing you to create a convenient charging station for your smart device. This feature adds convenience and functionality to your setup, ensuring that your device remains powered and ready for use.
With the No Stud Smart Shelf, you can confidently mount your smart devices throughout your home, regardless of the presence of wall studs. This system provides a simple and efficient solution for organizing and displaying your smart devices, enhancing the functionality and aesthetics of your living space.