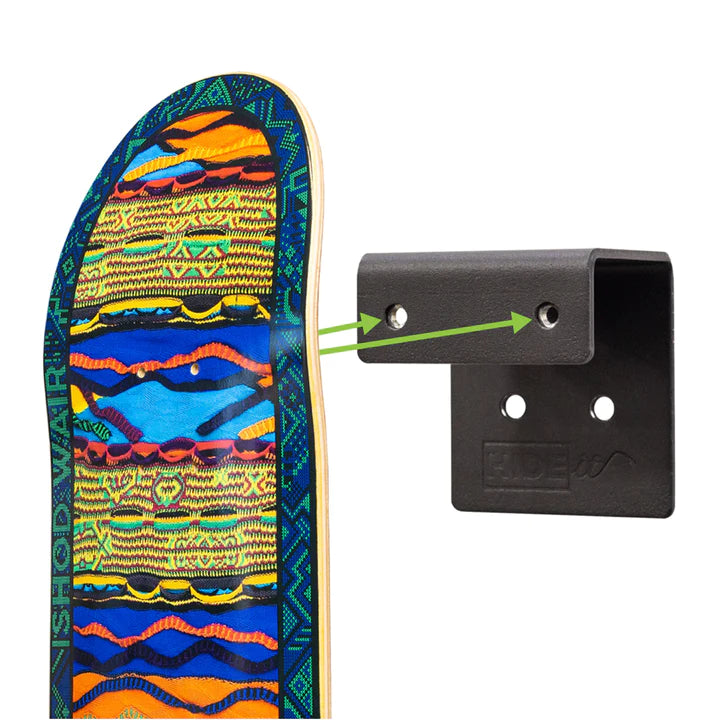 Skateboard Deck Wall Mount
Sale price
$30.99
Regular price
Skateboarding isn't just a sport, it's a lifestyle! Turn your favorite skateboards into awesome wall art with the Deck Mount. This easy-to-install mount allows you to display the custom skate deck graphics without drilling any holes in your board. Boards of any size work with this mount, including OG, Longboard, Penny Boards and more! Made from heavy-gauge steel for added strength, this mount ensures your deck stays firmly on the wall. Once installed, the mount and hardware are fully hidden to give your deck a free-floating look. Our Deck Mount is a must-have for skate enthusiasts!
 Universal design fits most non-complete skateboard decks.
•  Mount your deck vertical or horizontal. Horizontal requires the mount to be rotated.
•  Design fits common skateboard 1.625'' truck hole patterns.
•  Free-floating look! Deck mounts less than 2" off the wall.
•  Made from 12-gauge, powder-coated steel for strength + durability.
•  Includes drywall screws and anchors rated for 25 pounds each. Stud mounting is optional.


Product Name: Deck Mount
UPC: 850017013599
Includes: (2) #8 Flat Head Drywall Screws, (2) Drywall Anchors rated for 25 lbs each, (2) M5 Deck Screws
Dimensions: H 2.76 x L 2.50 x D 2.00 in (70.1 x 63.5 x 50.8mm)
Released: 5/2022 | Copyrighted + Patent Pending
Product FAQ:
Can you mount the deck sideways?
Yes. This mount is designed for vertical or horizontal mounting. Horizontal mounting requires the mount to be rotated 90 degrees so the hole pattern is vertical. Depending on the shape of the board, you might need to adjust the angle of the mount and board while installing for a level look.

★ Does this mount fit a complete skate deck?
No. This mount is designed for skate decks without trucks or wheels installed. For our complete skateboard mounts, check out our DSkate or VSkate Wall Mounts.

★ Why is my board not level when it's mounted horizontally?
Be sure to rotate your mount 90 degrees with the holes vertical before installing the board. Ensure the M5 screws are completely tight.

★ Can I mount my board at an angle?
Yes! Make sure you rotate the mount to your preferred angle and ensure the M5 screws are tight.

★ Can I mount my board with the grip tape facing out?
Yes!