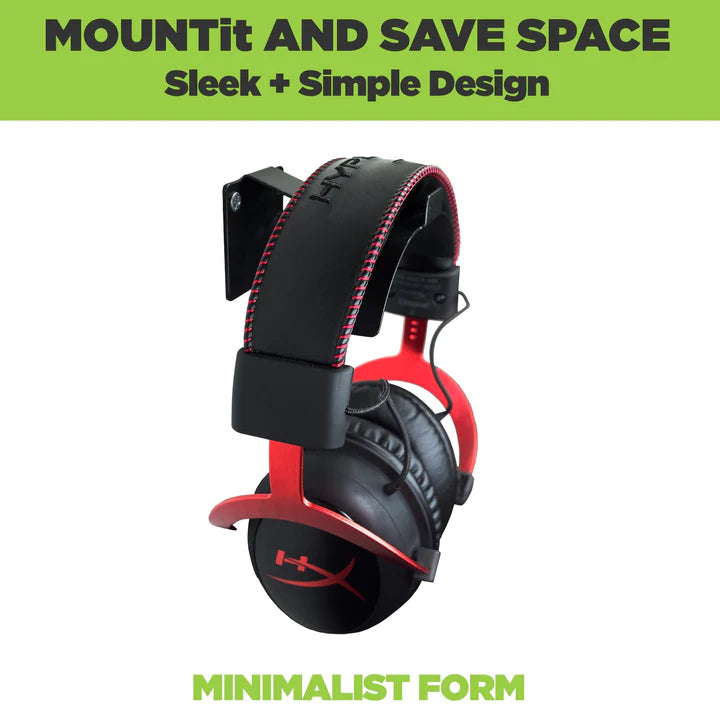 Headphone Mount for Headphones, Headsets, Vive, PlayStation VR, Oculus & More
Sale price
$25.00
Regular price
The Uni-H is the headphone mount you've been searching for! Its time to ditch the headphone stand and take advantage of unused wall space with the Uni-H Wall Mount. Mount your headsets to keep them safe from damage and accidents. With the provided drywall anchors, you can feel confident that your favorite gaming headsets or pair of headphones aren't going anywhere! Mount your headphones today for a sleek and organized setup! Don't have a pair of headphones you're looking to mount? No worries, the Uni-H is universal and compatible with a variety of other headwear including sports helmets and hats!
Product Detail:
Available as Made in USA. Your purchase supports American jobs.
•  Universal design fits nearly every headset model.
•  Designed in the USA. Made from 16-gauge, cold-rolled steel for durability.
•  Quick and easy to install. No measuring, no templates.
•  Includes drywall screws and anchors. Stud mounting optional.

Product Name: Uni-H
UPC: 858691006227; USA 850017013711
Includes: (2) #8 Flat Head Drywall Screws, (2) Drywall Anchors rated for 25 lbs each
Dimensions: H 4.5 x L 3.0 x D 2.0 in (114.3 x 76.2 x 50.8 mm)
Released: 5/2017
Product FAQ:
Will the PlayStation VR headset work with this headset mount?
It sure will!

★ Does the Astro A50 Wireless Headset and Base Station work with this mount?
The Astro A50 Wireless Headset will fit our Universal Headset Mount, but unfortunately the base will not.

★ Does this mount work with other items, such as helmets or hats?
Yes! Almost anything that fits on your head, will work with our Uni-H.

★ How wide is the band where the headset rests?
The part of the mount where the headset or headphones rest is 1.3125'', but can fit headsets up to 2.75'' wide.