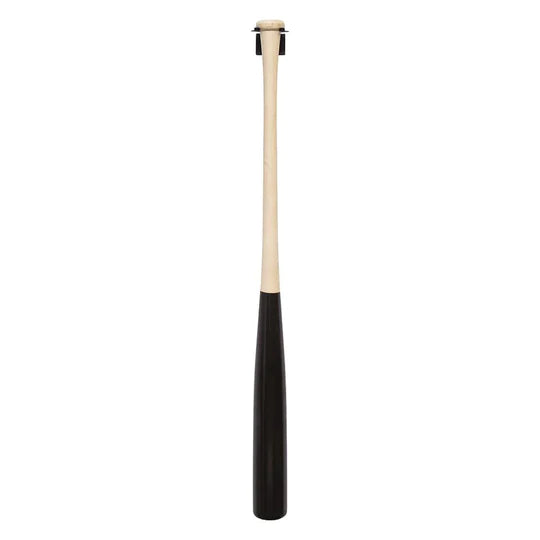 VBat | Vertical Baseball Bat Mount
Sale price
$19.00
Regular price
Universal design fits all bat sizes from T-Ball Bats to Drop 3 Bats.
•  Two display options. Perfect for bats or baseballs.
•  Made in the USA from 16-gauge, cold-rolled steel for durability.
•  Powder-coat finish resists rust for indoor or outdoor mounting.
•  Quick and easy to install. Minimal tools needed.
•  Includes drywall screws and anchors, plus self-drilling heavy-duty anchors. Stud mounting optional.
Bats sold separately.
Product Name: VBat
UPC: Black Single 858691006630; Black 3-Pack 858691006685; Black 5-Pack 858691006708; White Single 858691006678; White 3-Pack 858691006692; White 5-Pack 858691006715
Includes: (2) #8 Flat Head Drywall Screws, (2) Drywall Anchors rated for 25 lbs each
Dimensions: H 2.00 x L 2.50 x D 2.51 in (50.8 x 63.5 x 63.75 mm)
Released: 4/2019 | Copyrighted
COMPATIBLE WITH:
•  Axe Bats
•  Adidas Bats
•  Anderson Bat Company
•  B45 Bats
•  Baum Bats
•  BamBoo Bats
•  Bratt Bats
•  BWP Bats
•  Combat Bats
•  DeMarini Bats
•  Dove Tail Bats
•  Easton Bats
•  Louisville Slugger
•  Marucci Bat
•  Mizuno Bats
•  Rawlings Baseball Bats
•  SSK Bats
--
Complete the baseball decor in your office or bedroom by making your favorite bat the center of attention! Proudly display your collectible baseball bat or memorabilia bat with our Vertical Baseball Bat Wall Mount. The HIDEit VBat Mount is a sleek, durable storage solution for displaying your vintage bat, autographed bat, game-used bat, antique bat, or MLB bat.
Need a spot to display your autographed baseball? The universal design will hold an official MLB baseball or a softball and ribbed tabs ensure your ball stays in place while it rests in the wide opening. Create the ultimate setup for your sporting goods with the VBat!