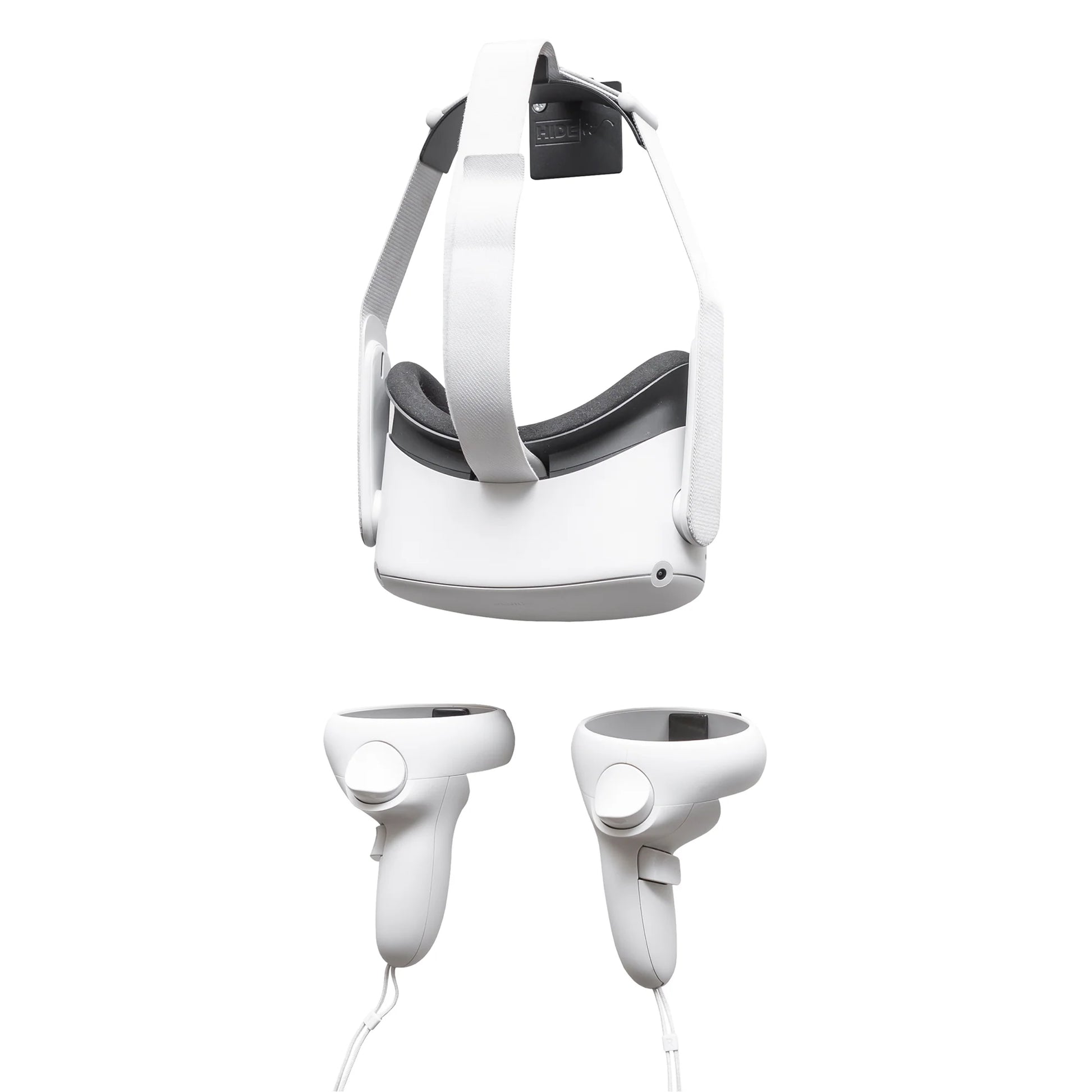 Oculus Quest 2 Wall Mounts for Quest VR Headset + Touch Controllers
Sale price
$49.99
Regular price
Finish playing Beat Saber and need to store your Oculus Quest 2 VR Headset? The Oculus Mounts are the perfect solution to organize your gear and take your setup into a new reality. Avoid bulky VR display stands. Our minimalist design keeps the focus on your VR set and allows you to mount your gear just about anywhere! The Universal Headset Mount safely stores the virtual reality display and the tab keeps it in place to avoid accidental drops or damage. The Oculus Touch Controller Mounts are rubber dipped to prevent sliding and scratches when placing controllers on and off the mounts. Complete your VR setup with the Oculus Mounts
Product Detail:
3-piece bundle: (1) Uni-H Mount for VR Headset, (2) Touch Controller Mounts.
•  Wall or desk mount to organize VR setup.
•  Uni-H tab holds Oculus headset in place.
•  Rubber dipped controller mounts prevent sliding + falling.
•  Quick and easy to install. Minimal tools needed.
•  Designed in the USA from 16-gauge, cold-rolled steel for strength + durability.
•  Mounting hardware included. Stud mounting available.

Oculus Quest 2 and Touch Controllers are sold separately. Oculus® is the trademark of Facebook.

Product Name: Oculus Bundle
UPC: 850017013452
Includes: (1) Uni-H Mount for VR Headset, (2) Touch Controller Mounts, (6) #8 Flat Head Drywall Screws, (6) Drywall Anchors rated for 25 lbs each
Dimensions: Uni-H: H 4.5 x L 3.0 x D 2.0 in (114.3 x 76.2 x 50.8 mm), Clip: H 1.81 x L 1.22 x D 0.83 in (H 45.9 x L 30.9 x D 21.1 mm)
Released: 7/2021 | Copyrighted

COMPATIBLE WITH: Oculus Quest Headset, Oculus Quest 2 Headset, Oculus Touch Controllers
NOT COMPATIBLE WITH: VIVE Pro 2, VIVE Controllers, HTC VIVE Focus 3, PlayStation Move Controllers
Product FAQ:
Will this bundle work for the PSVR?
We recommend purchasing our HIDEit PSVR Bundle which includes a mount for the PSVR headset and processor unit. We also have an option with mounts for the Move Controllers.