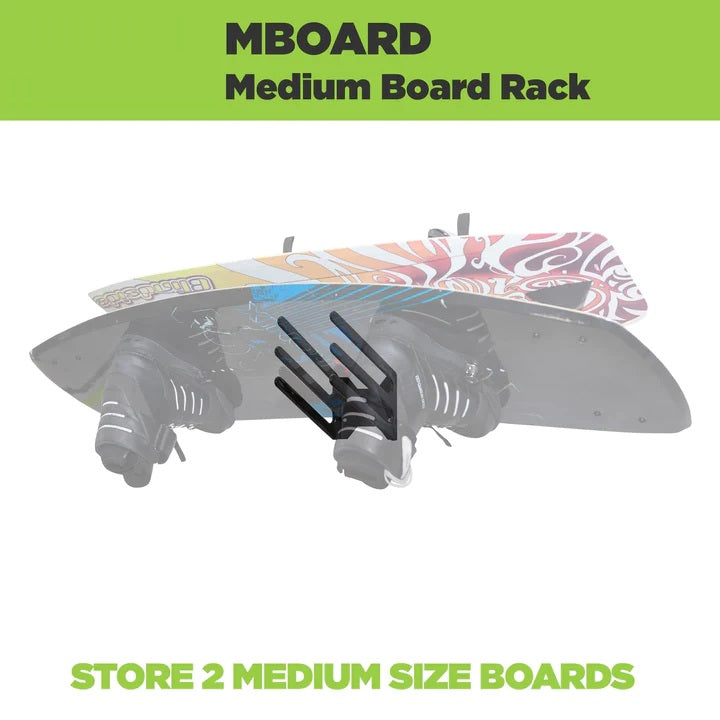 Horizontal Board Mount Wall Rack, Wakeboard Rack, Skateboard Rack & Skimboard Rack
Sale price
$99.00
Regular price
Tired of bulky wakeboards taking up space in your garage? The MBoard is the perfect solution to organize and safely store your boards in the offseason. Made from heavy-duty steel, our board mount is strong enough to hold a combination of boards, so mix in your longboards, wakeboards and skimboards! The powder-coated and rubber dipped steel protect your boards from scratches and won't rust in marine environments. The 1.25'' gap between arms holds most medium size boards and water skis. Plus the single-piece design makes installation easy! It's the ideal board rack!
Product Details:
Universal design is ideal for water skis, wakeboards, skateboards + more!
•  1.25" standard gap between arms.
•  Rubber dipped arms protect boards from scratches.
•  Made from 12-gauge steel for strength + durability.
•  Powder-coat finish resists rust in marine environments.
•  Single-piece mount for easy install.
•  Includes drywall screws and anchors rated for 25 lbs each. Stud mounting is optional.
Horizontal Board Mount Wall Rack, Wakeboard Rack, Skateboard Rack & Skimboard Rack

Product Name: MBoard
UPC: 850017013438
Includes: (4) #8 Flat Head Drywall Screws, (4) Self-Drilling Heavy-Duty Drywall Anchors
Dimensions: H 9.56 x L 8.10 x D 6.16 in (242.8 x 205.7 x 156.5 mm)
Released: 4/2021 | Copyrighted

COMPATIBLE WITH:
•  Continuous rocker wakeboard
•  Hybrid rocker wakeboard
•  Three-stage rocker wakeboard
•  Five Stage rocker wakeboard
•  Longboard skateboards
•  Cuiser skateboards
•  Mini Cruiser skateboards
•  Carve skateboards
•  Shortboard skateboards
•  Complete skateboards
•  Foam skimboards
•  Wood skimboards
•  Shallow rocker skimboards
•  Steeper rocker skimboards
•  Pin tail skimboards
•  Square tail skimboards
•  W-tail skimboards
•  Streamline skimboards
•  Proto skimboards

NOT COMPATIBLE WITH:
•  Surfboards
•  Boogie boards
•  Paddle boards
Product FAQ:
What kind of boards can this hold?
This mount holds various medium size boards including wakeboards, skateboards, skimboards + water skis. It's not designed for surfboards or body/boogie boards.

★ How many boards can this hold?
It fits 2 wakeboards or 2 complete skateboards but depending on the size and combination of boards, this rack can hold up to 3 boards.