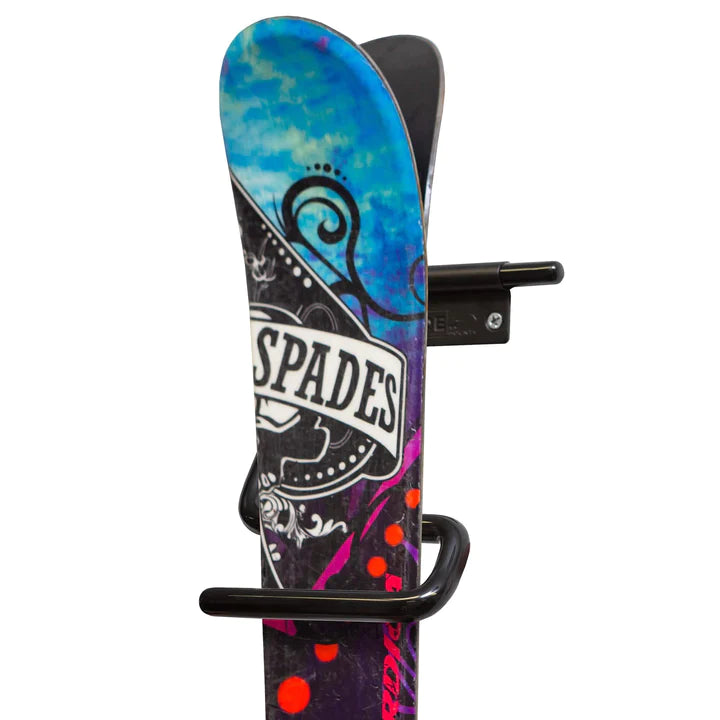 Vertical Wall Mount Ski Rack for Adult & Youth Skis
Sale price
$49.99
Regular price
Eliminate ski equipment clutter and get your skis organized with the Vertical Ski Mount! The VSki is the perfect way to store your skis and maximize storage space. We know bulky ski racks don't work for every space, but our minimalist design gives you the flexibility to mount your skis and poles virtually anywhere - it's ideal for small spaces! The Vertical Ski Wall Mount is made for heavy use and the rubber dip coating keeps your skis safe from damage. Plus, it works with all types of adult and youth skis, including downhill skis, powder skis, cross country skis, and more! It's your ultimate grab 'n go ski storage solution!
•  Universal design fits all ski types (and holds poles too!)
•  One (1) VSki Mount securely holds one (1) pair of skis.
•  Rubber-coated stainless steel bar protects skis from scratches.
•  Backplate powder-coat finish resists rust. Perfect for indoor or outdoor use.
•  Made in the USA from heavy-gauge steel for added strength + durability.
•  Quick and easy to install. Minimal tools needed.
•  Includes drywall screws and anchors. Stud mounting is optional.

Product Name: VSki
UPC: 850017013315; 3-Pack 850045107086
Includes: (2) #8 Flat Head Drywall Screws, (2) Self-Drilling Heavy-Duty Drywall Anchors
Dimensions: H 7.43 x L 4.98 x D 0.48 in (188.7 x 126.5 x 12.2 mm)
Released: 10/2020
Product FAQ
 When mounting, do the backplate screws holes go above or below the bar?
The backplate has to be mounted with the screws underneath the bar.

★ Can the rubber-dipped bar face right or left?
Yes! Depending on what's easiest for you, you can mount the bar facing the left or the right side!

★ Where does the mount hold the ski?
The bar of our vertical ski mount can be installed to mount at any part of the ski.